NEWS & VIEWS - THE CHURCH / POPE & CARDINAL O'BRIAN
Skip TOC
Article Index
THE CHURCH / POPE & CARDINAL O'BRIAN

current position


The church - Pope & Cardinal O'Brian


This is a long page - apologies for that - but there are a lot of evil and corrupt things afoot and a lot to share about the ways of the Roman Church and the B.S. they shovel at people while not being whiter than white themselves.





Catholic church excommunicates

Brazil priest for liberal views

Priest defends homosexuality, open marriages
* Excommunication follows warnings to toe Church line
By Paulo Prada
RIO DE JANEIRO, April 30 (Reuters) - The Catholic Church has excommunicated a Brazilian priest after he defended homosexuality, open marriage and other practices counter to Church teaching in online videos.
In a statement released late on Monday, the priest's diocese said Father Roberto Francisco Daniel, known to local parishioners as Padre Beto, had "in the name of 'freedom of expression' betrayed the promise of fealty to the Church."

The priest "injured the Church with grave statements counter to the dogma of Catholic faith and morality." The actions amount to "heresy and schism," the statement said, the penalty for which is excommunication, or expulsion from the Church.

The rare punishment follows what Daniel's bishop and the priest himself said were repeated rebukes about the videos and other public activities, such as a radio broadcast and local newspaper column, in which he challenged Church doctrine.

The 47-year-old cleric, who studied theology in Germany, is popular in the southeastern city of Bauru, where he has been a priest since 2001. He is known for his rock T-shirts, a silver stud pierced through his right ear and his habit of posing, as on his official Facebook page, with a glass of beer.
On Facebook and Twitter, Daniel posted a brief statement about the excommunication: "I feel honored to belong to the long list of people who have been murdered and burned alive for thinking and searching for knowledge."

SPREAD OF MODERATE VIEWS
Daniel's excommunication, which prompted headlines across Brazil and protests in social media, illustrates the rising influence of more moderate social views in Brazil, Latin America's biggest country, and much of the rest of the region.
Progressive stances on sexuality, birth control, scientific research and other delicate topics for the Church are increasingly common in Latin America, home to 42 percent of the world's Catholics, more than any other region worldwide.
The shifting views are among the many challenges faced by Pope Francis, an Argentine who ascended in March to become the first Latin American pope in history.
The excommunication comes just two months before Francis is scheduled to attend World Youth Day, expected to attract as many as 2 million young Catholics to Rio de Janeiro.
Though Francis is known to be a traditionalist on social issues and Church doctrine, his appointment raised hopes that the first non-European pope in 13 centuries would do more than his predecessors to modernize Catholicism.
But Daniel's beliefs clearly went too far for church leaders.
In one of the recent videos he posted on YouTube.com and his own Website, the priest said a married person who chose to have an affair, heterosexual or otherwise, would not be unfaithful as long as that person's spouse allowed it. "If someone is in an extramarital relationship and that relationship is accepted by the spouse, then faithfulness still exists there," he said.
A "REBEL SON"
In a telephone interview, Daniel said his statements "are personal reflections that should be considered and discussed in the dialogue of the church." The excommunication, he said, is "the sad act of a lukewarm and disengaged church that is out of touch with today's society."

The diocese retained a church expert in canonical law to oversee the excommunication process. The diocese also initiated a separate process at the Vatican through which Daniel will be stripped of clerical authority.

Last Tuesday, Bishop Caetano Ferrari gave Daniel a letter asking him to take the videos offline and publicly retract his statements. In an interview posted on the diocese Web site shortly afterward, Ferrari called Daniel "brilliant," but characterized him as a "rebel son" who "crosses the line."
On Monday, Daniel said he went to the diocese headquarters planning to renounce his clerical duties rather than retract any of his comments. But before he had a chance, the bishop and canonical expert made him face a committee of Church officials.

"It was a trial," Daniel said. "I told them I was not there to be tried, that I had not been indicted."
Shortly afterward, the Church issued the statement announcing his excommunication.




READ MORE HERE

Pope Francis Becomes

First South American Pontiff














CLICK THE PICTURE ABOVE to see the LIVE WEB CAM of the IMAX CENTRE being dismantled - after a decade plus outrage by the people of Bournemouth against the ugly building being built and the corruption of council officials.

It has taken the people of this town a long time to get the officials at the council to listen to what was needed and now the council has the nerve to use symbols like the one above that says -'YOU SAID - WE DID' - AND WHAT A DAMNED JOKE THAT HAS BEEN. Who the fuck does the council think it is kidding.

John: Thankyou for the link to view the removal of the IMAX building. I watch it each morning for a few minutes just to see how it is progressing and am thrilled it is coming down. Talk about corruption in building the damned thing in the first place. I live in Bopurnemouth but rarely get down to town because of work and being disabled and thoroughly enjoy your site. Thanks John. Steve.



IMPORTANT VIDEO ON YOUTUBE

watch what happens when the Baliffs try and illegally throw people out of their house.

PLEASE watch until the end

WATCH IT NOW - HERE


Russell Brand on drugs, Savile and yoga - video

WATCH IT HERE

THIS IS A BRILLIANT INTERVIEW AND WELL WRTH WATCHING.



ALERT:

Russia Warns Of Nuclear Attack Against U.S.A.


The American Right is


Waging a Global War on Gays


The American Religious Right is waging a bloody war on LGBT people throughout the world, from Europe to Africa, lighting the fuse and then running for cover so as to look blameless when the ideological bomb they have planted goes off.
The now infamous history revisionist and anti-gay evangelist Scott Lively is a salient example. The Springfield pastor, spawn of the American Family Association now turned freelance, has the ignoble honor of being among the first in America to be subject to a lawsuit for human rights abuses allegedly perpetrated abroad, with the Ugandan group Sexual Minorities Uganda (SMUG) arguing in a Massachusetts court this month that Lively's ministry in Uganda was a direct advocate of a bill that would later threaten the very lives of the country's LGBT people.
By his own admission, Lively's working holiday to Kampala in March of 2009, along with cohorts Don Schmierer and Caleb Lee Brundidge, was a mission that saw the band of morally bankrupt men firmly and uncompromisingly lie — or "speak God's truth" as they would term it — about the so-called "gay agenda" and rally Uganda's religious groups to unify against the country's gay citizens. As to the extent of their influence, Lively wrote a few days after his visit to Uganda that "someone had likened their campaign to 'a nuclear bomb.'"
When, mere months later, Ugandan backbencher David Bahati published his infamous Anti-Homosexuality Bill of 2009, that would in due course accumulate its media hook "The Kill the Gays Bill" for its death penalty for repeat offenders provision, Lively was already dolling out his generous anti-gay exhortations elsewhere. He did, however, spare a few words to express his disappointment that the bill was quite so harsh. In advising the country's lawmakers, he had never meant to advocate for extermination, he clarified. No, rehabilitation through the loving hand of ex-gay therapy was to be the answer, this an essential difference between death by blunt trauma and the friendly poison that by drop after spirit-crushing drop destroys completely; something that presumably he could teach for a nice fat fee.
Let's tot up the true depth of the injury Lively and friends perpetrated in Africa. Uganda's Anti-Homosexuality Bill threatens still, and around it now wobbles an always teetering domino effect, with Ghana, Liberia, Cameroon and Zimbabwe all having felt the need to at the very least reaffirm their commitment against homosexuality and, in Liberia's case as the very worst, begin to formulate its own version of the Kill the Gays bill.
Lively has also directly bedded the Right, ideologically speaking of course, in numerous countries since, including Moldova and in Russia where, after letting rip with his noxious treatise on how gays are the root of the anti-Christian Left that will bring down civilization, he left them to their ecstasy of fumbling – and fumble they did, producing little colonies of anti-gay legislation culminating in one much more comprehensive national piece, to which we will return later.
That there is now even the possibility, shaky as it is, that Lively may be held accountable for his actions abroad has the
American Right suffering the vapors and them crowing how this is the death knell for Right thinking, good Christian living. The efficacy of the legal case against Lively aside, it is no wonder that such a frenzy has been created. American exports in the commodity of anti-gay fervor are at a premium. Admittedly, most have been repackaged under the gay marriage versus "traditional" marriage false paradigm, but even a mild attention to detail reveals the massaging done by the American Right.
We take, for instance, the obvious: Brian Brown of the National Organization for Marriage taking a trip to France just as French religious conservatives happened to be marshaling a protest against a marriage equality bill proposed by President Francois Hollande's socialist party. Brown, turning to the camera, took time to extol the virtues of the "million" strong who marched in early January, with NOM shamelessly lauding "this new international solidarity movement in defense of marriage, children and family."
Then somewhat more subtle at first glance: England and Wales have just seen published their draft same-sex marriage bill. The group that congealed to oppose the legislation, the Coalition for Marriage, has a decidedly American National Organization for Marriage or Frank Schubert musk – even down to similarities between its campaign videos and, say, those released in Minnesota in 2012.
This is not to mention that, for years now, legal groups like the Alliance Defending Freedom, formerly the Alliance Defense Fund, have regularly filed briefs in cases before the European Court of Human Rights hoping therein to chip away at Europe's insulated human rights protections and have the court find reason to prioritize religious zealotry over basic LGBT rights and human freedoms. So far, little to no success.
Lively's old loves at the American Family Association are also busy cheering the Russian Duma's despicable push to outlaw freedom of assembly for LGBT people, the aggressive national anti-"homosexual propaganda" law that last week passed its first vote as gay protesters were recovering from being pulverized in the streets, bemoaning that America should see its error and follow Russia's lead.
And so we come full circle. The battle against gay rights has been lost in America. It may take a decade yet, but the inexorable creep toward full recognition of LGBT dignity is well underway and, through America's firm grounding in the value of the secular, it is a corner that once turned cannot be reversed easily.
Knowing this, Lively and his ilk have taken to shipping their moral atrocities abroad, hoping that their dominionist seeds will take root somewhere else, always of course being well away from the danger zone when their ideological bomb goes off, and always cowering behind a warped First Amendment shield.
The question, of course, is how long America's conscience can allow this sort of thing to go unchecked – and, in some cases, rewarded through tax breaks and deferential treatment.
Read more: HERE
John Bellamy comments:

Don't ever be complacent about the rights we have in the UK as members of the LGBT community. Don't ever forget that many people my age and older, went on marches, held banners and campaigned to get where we are today - with equal rights ( which should be called 'better right' as we are still not equal ) Don't ever forget how many countries live in ignorance and fear and when evil peddlers of mass murder - like this vile excuse for a human being above does - and all in the name of God - corrupts and distorts the truth to create and cause huge amounts of hatred and fear - then we must be aware that we are not living on a planet where equalty counts for very much.

Claiming to be doing God's Work is a powerful tool to many and throughout history millions have been burned alive, drowned and/or horribly tortured by evil, sick and twisted people claiming to be doing God's Work, so as soon as you hear anyone claiming to be doing just that - know that they are misguided and evil, and as no one knows what is God's Work and the Bible is the very last place I would search to find out what it is, distrust anyone claiming just that.

I have no idea why this man and his organisation have such flees up their ass - or whay they live in such perp[etual fear of the LGBT community - except to state the bleeding obvious - and it is men like this who stir up a hornets nest and get others convinced it is 'The End Times' or that the Comet is hiding a space craft come to take you to a higher plane of existance - and there will always be the gullible and the dumb who will buy into such clap trap. We must, howeever, be very aware of people like this as they are dangerous and will not vanish if we ignore them, they will become more powerful and more dengerous and we need to take warning from this.

-------------------------------------
The Religious Rights' attack on LGBT families is odious. The opportunity for hilarious, bizarre and baffling soundbites, however, is plentiful. Here are five you'll find it hard to believe are even real.
1) Gay Marriage is A Straight Tax Dodge
Georgia GOP chair Sue Everhart, when she's not commenting on how gays don't have the right equipment to be together, doesn't buy all this marriage equality malarkey. Oh no, she's on to you sneaky straight people:
You may be as straight as an arrow, and you may have a friend that is as straight as an arrow. Say you had a great job with the government where you had this wonderful health plan. I mean, what would prohibit you from saying that you're gay, and y'all get married and still live as separate, but you get all the benefits? I just see so much abuse in this it's unreal. I believe a husband and a wife should be a man and a woman, the benefits should be for a man and a woman. There is no way that this is about equality. To me, it's all about a free ride.
As others have pointed out, this ridiculousness sounds a lot like the plot to the bludgeon-me-with-the-remote-as-this-is-painfully-unfunny Adam Sandler film I Now Pronounce You Chuck And Larry. It's also a new level of stupidity. This isn't an argument against gay marriage. If you were going to commit marriage fraud, why would you bother with the "skim milk" way various governments (including the federal government) treat same-sex couples and not go for the full-fat opposite sex marriage? No, Everhart, you just talked yourself out of straights marrying straights. Kudos.
2) Gays and Lesbians Responsible for Majority of Murders in Major Cities
Dave Agema, Michigan Republican National Committeeman, has found himself in a spot of bother after taking to his Facebook page to bemoan the homosexuals and their "filthy" lives. Stay with me, it gets better.
Rather than backing down in the face of intense calls for him to apologize or resign, he's decided to start offering "reems" [sic] of evidence to show he's right. Except he's having a hard time finding legitimate sources. And then, when prompted by press inquiries into whether he supports the notion that gay and lesbian people account for a higher number of murders, suicides and diseases in major cities, something raised by an anti-gay article Agema cited, he said:
"I not only believe it, it's substantiated by several different articles and studies. That's just a fact."
And it's just a fact that those figures are a mangled heap. Strangely, the pressure for Agema to resign has only intensified.
3) Gay Marriage and Gay Boy Scouts Are Provoking North Korea
This one stands on its own. Frank Luter, the president of the Southern Baptist Convention, speaking to "TruNews" saying:
"I would not be surprised that at the time when we are debating same-sex marriage, at a time when we're debating whether or not we should have gays leading the Boy Scout movement, I don't think it's just a coincidence that we have a mad man in Asia who is saying some of the things that he's saying."
But, to be fair, he does offer the caveat that he's "not that strong in prophecy." You can listen to the audio here.
4) Gays Hate God, The Flag, Mom and Apple Pie
You remember Kansas Congressman Tim Huelskamp, right? He's the guy that really doesn't want gays marrying on military bases. The vexed congressman decided to write a decidedly rhetoric-heavy piece for the Washington Times on Monday in which he decries "The war on marriage and motherhood."
It was hard to just pick one untruth, one flagrant lie, aimed at the LGBT community, so I decided to go for the following laugh-out-loud paranoia that the gay agenda together with political correctness has destroyed:
… yet another pillar of the American paradigm for our patriotic, wholesome culture — "God, the flag, mom and apple pie." Activist judges have already expelled faith from the public square (forbidding the Ten Commandments, a cross in remembrance of our military heroes, and Christmas Nativity scenes) and decriminalized burning the Stars and Stripes in public. The First Lady's "Let's Move!" initiative and New York City Mayor Michael R. Bloomberg's sugary-drink ban suggest the days of consuming apple pie might well be numbered.
I enjoy the part where Huelskamp conveniently forgets Bloomberg is a Republican. Also, we gays love our mothers — duh!
5) Ronald Reagan's Son Thinks Gay Marriage is Like Murder
68-year-old Michael Reagan took time out to hyperventilate this past week about Republican-infighting and the Supreme Court marriage equality cases, saying:
"It's ultimately about changing the culture of the entire country; it inevitably will lead to teaching our public school kids that gay marriage is a perfectly fine alternative and no different than traditional marriage.
"There is also a very slippery slope leading to other alternative relationships and the unconstitutionality of any law based on morality. Think about polygamy, bestiality, and perhaps even murder."
It's strange, though, that the only people who really do seem preoccupied with "polygamy, bestiality, and perhaps even murder" are always those belonging to the Religious Right.
Read more: http://www.care2.com/causes/5-of-the-dumbest-things-youll-hear-about-lgbts-this-week.html#ixzz2Pm9AZ0Xq


Gays Will Burn Christians at the Stake' Says Pastor


READ THE ARTICLE HERE


•

GAY CURE THERAPIST GOES TO JAIL


Dr. Aubrey Levin, a "gay cure" therapist convicted of sexually assaulting his male patients, has been sentenced in Canada to five years in prison.
The 74-year-old South African native had been facing eight years but the judge reduced his sentence due to his age and health problems.
Gay Star News reports:


Levin was convicted on three counts of sexual assault by a jury last week. Court of Queen's Bench Justice Donna Shelley told the disgraced doctor that it was a "horrible violation of the trust of these three patients."
"They came to you for help for their problems," she said. "Instead you added to their problems."
While the Crown asked for six to eight years, the defense argued Levin was a frail senior and suggested a sentence of 60-90 days to be served on weekends.

Shelley said: "Dr Levin, knowing of the many vulnerabilities of these victims, employed a strategy which would give him the opportunity to sexually assault his patients. Dr Levin's profession and his training would make him more informed than the average sexual assaulter to the serious psychological and emotional harm that can result from a sexual assault," she added.
"These three men were already emotionally and psychologically fragile."
Levin was originally accused by nine different men but the jury acquitted him of two of those charges and were unable to reach a verdict on the other four victims.

Levin lost his license in 2010 after a former patient came forward with secret video footage he had recorded during court-ordered sessions with the therapist. The videos, played in court last fall, showed Levin undoing the man's belt and jeans then appearing to fondle him.
Before emigrating to Canada, Levin earned the nickname Dr. Shock for subjecting hundreds of gay soldiers and conscientious objectors to electric shock "therapy" during South Africa's apartheid era.
Last year, a South African journalist claimed that "Levin and his team also performed chemical castration as well as forced…gender reassignment surgery on gay men as a 'cure' for being gay."

Levin's defense attorney Chris Archer hopes his client will be released on bail once an appeal has been filed.
"With a 74-year-old man you're looking at the end of your life and whether or not this is going to be a significant part of it or whether or not you're going to die in jail," Archer said.

We're not legal experts or anything, but doesn't a guy like this deserve to die in jail?


Nationalistfairmedia

A blog to report news from a Nationalist's perspective.

If you want a real laugh at a homophobic attitude, where he rants about me and Hamilton Hall - see HERE and DO PLEASE LEAVE A RESPONSE AS I HAVE DONE.

His web address is -
http://nationalistfairmedia.blogspot.com/2011/11/devout-christian-couple-who-run-guest.html




Zbigniew Kazimierz Brzezinski ; born March 28, 1928) is a Polish American political scientist, geostrategist, and statesman who served as United States National Security Advisor to President Jimmy Carter from 1977 to 1981.



Zbigniew Brzezinski

Still Admits The Global Political Awakening Proving Very Difficult For The Elite


WATCH AND LISTEN HERE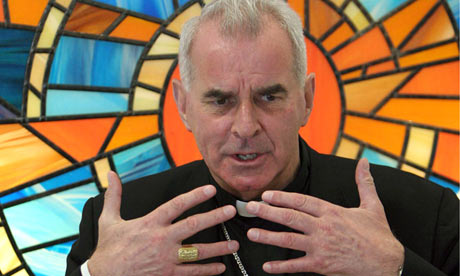 Cardinal Keith O'Brien, who was

forced to resign, has released

a statement admitting and apologising

for his sexual conduct.

Cardinal Keith O'Brien, who was forced to resign by the pope last week, has made a dramatic admission that he was guilty of sexual misconduct throughout his career in the Roman Catholic church.
In a short but far-reaching statement issued late on Sunday, the 74-year-old stated that "there have been times that my sexual conduct has fallen below the standards expected of me as a priest, archbishop and cardinal".
The former archbishop of St Andrews and Edinburgh, and until recently the most senior Catholic in Britain, apologised and asked for forgiveness from those he had "offended" and from the entire church.
O'Brien was forced to resign last week by Pope Benedict XVI, barely 36 hours after the Observer disclosed that three serving priests and a former priest were accusing him of "inappropriate acts" against them nearly 30 years ago, in a formal complaint to the pope's ambassador to the UK.
The cardinal had "contested" those allegations, while his officials said he was taking legal advice.
But now O'Brien has effectively admitted he had been breaching the church's strict rules on celibacy and its bar on homosexuality since he became a priest – and during his 10 years as a cardinal.
It was alleged that some of these incidents were "drunken fumblings". One case reported by the Observer involved repeated sexual contact.
On Friday, there were claims that complaints had been made to the nuncio, Archbishop Antonio Mennini, by a fifth priest last year, about an alleged incident in 2001.
Announcing that he would now retire entirely from public life and from the frontline duties for the church he once led, O'Brien said: "In recent days certain allegations which have been made against me have become public. Initially, their anonymous and non-specific nature led me to contest them.
"However, I wish to take this opportunity to admit that there have been times that my sexual conduct has fallen below the standards expected of me as a priest, archbishop and cardinal.

"To those I have offended I apologise and ask forgiveness. To the Catholic church and people of Scotland, I also apologise. I will now spend the rest of my life in retirement. I will play no further part in the public life of the Catholic church in Scotland."
His statement goes significantly further than the apology and partial admissions which he made in his resignation statement last week, when he said: "Looking back over my years of ministry, for any good I have been able to do, I thank God. For any failures, I apologise to all whom I have offended."

O'Brien's much wider admissions are a significant rebuff to some senior figures in the Scottish church who had repeatedly downplayed the allegations disclosed in the Observer, calling them unsubstantiated, non-specific and anonymous.

The cardinal's office warned the Observer it faced legal action after it first contacted him. In further disclosures this weekend, the Observer reported that one complainant had alleged: "He started fondling my body, kissing me and telling me how special I was to him and how much he loved me."
In a fresh interview with the Observer, the former priest, who made his complaint to the nuncio in early February, said that after his disclosures he sensed "the cold disapproval of the church hierarchy for daring to break ranks. I feel [that] if they could crush me, they would."
O'Brien's resignation was remarkable in its speed; his apology is all but unprecedented in its frankness. Many sexual scandals or allegations of misconduct against individuals or the wider church have dragged on for years.

The cardinal was forced out only three days before the pope retired last Thursday. There is growing speculation that the Vatican acted swiftly because O'Brien had challenged one of the church's greatest orthodoxies – saying, in a BBC interview and only two days before the Observer story was published, that priests ought to be allowed to marry and have children.

Catherine Pepinster, editor of the weekly Catholic newspaper the Tablet, said Benedict and his close aides may have been extremely irritated because O'Brien had promised to renounce his once liberal views on some church teachings when he became a cardinal in 2003.
On becoming a cardinal the Vatican had made him swear an oath to uphold the teachings of the church, binding him to uphold its orthodox positions. He then took a hardline stance against gay issues and abortions.

Pepinster said his new statement would, however, allow the Scottish church to move on. "This is a shocking admission, but one that is in many ways welcome, not least because it seems Cardinal O'Brien must have been leading a double life, and that is now at an end.

"That must surely be a relief to him and a burden lifted. But it must also be a relief to Catholics in Scotland. The boil has been lanced, and it's time to move on. Too many scandals in the Catholic church drag on and on, but this one has been dealt with speedily, and a line can be drawn."



Cardinal O'Brien should apologise to gay community


Keith O'Brien urged: Repent your homophobia

Estimated 40% of Catholic priests are gay, including top clerics

London - 5 March 2013


"Cardinal O'Brien's confession falls well short of what we expect from a spiritual leader. I urge him to show true remorse for his homophobia and hypocrisy by saying sorry to the gay community for the hatred he has stirred and the harm he has caused - and by publicly repenting his homophobia," said Peter Tatchell, Director of the human rights organisation, the Peter Tatchell Foundation.

"He should make amends by dropping his opposition to marriage equality and by beginning a new affirmative ministry to gay Catholics."

Mr Tatchell was commenting on the Cardinal's confession of sexual relations with men. Accusations by four male priests led to his resignation a week ago. O'Brien is Britain's most senior Catholic cleric.

"By his own admission, the Cardinal stands exposed as a hypocrite. He preached against homosexuality in public while seeking its delights in private," said Mr Tatchell.

"Cardinal O'Brien's admission of sexual contact with men torpedoes the credibility of the church's bigoted stance against homosexuality. It also undermines the campaign against same-sex marriage.

"It will be very difficult to take the opponents of marriage equality seriously now that this senior spokesperson has admitted that he did what he preached against.

"The Cardinal is a troubled man. I pity and sympathise with him. I hope he will receive supportive counselling to help him deal with his decades of deception, and enable him to come to terms with his obvious self-loathing and deeply repressed homosexual desires.

"Keith O'Brien is not the only deceiver. Other leading voices against marriage equality are also homophobic hypocrites. They are at risk of similar exposure as frauds.

"There are several senior Catholic clergy who are guilty of the same dishonesty. They are also two-faced.

"An estimated 40% of Catholic clergy are gay, including Cardinals. Studies documented by Father Donald Cozzens in the US suggest that 23% to 58% of priests have a homosexual orientation, with the figure being closer to 60% among younger priests.

"Recent revelations in Italy have alleged gay senior Vatican clerics and their involvement in gay bars, clubs, saunas, online chat rooms and male prostitution services. Given their denunciation of homosexuality, how can they live with their conscience?

See here: http://bit.ly/YdX9Bc and http://bit.ly/9JGTlw

"The Catholic church is shamelessly championing homophobia and the denial of legal equality to gay people, while hosting widespread secret, guilt-ridden clerical homosexuality," said Mr Tatchell

Further information:

Peter Tatchell
Director, Peter Tatchell Foundation
0207 403 1790
Email: Peter@PeterTatchellFoundation.org
Web: www.PeterTatchellFoundation.org

So they claim to be able to draw a line under this whole affair straight away and to be able to move on. Amazing how they can just brush this scandal under the carpet so fast and pretend it has all been sorted when this is just the tip of the iceburg and yet the church STILL attempts to pretend nothing is really wrong, no real harm done, he has admitted it and resigned so time to move on - and not a word about the evils and the wrongs of a church man and how this organisation fosters and covers up for this kind of thing and is only now that the Pope is in such deep doo doo that even this came to light.

Amazing double standards of the church.


Comment from John Bellamy:

My Mother always said that people who live in glass houses should never throw stones and here we have an important man in the church damning others for 'crimes' he has himself committed - and against fellow clergy - ( although we do not - as yet - know what it was he did to these priests, he may have just been a thorough bully - or it could be sexual abuse, as yet, we do not know ) and this behaviour needs 'outing' and he deserves to loose his job and be publically shown up for what he is, as this kind of double standards destroy other people.

This kind of man - this kind of attitude, is worthy of public attention and 'in your face' ridicule as he has damned and destroyed others with his bigotry. This is so typical of the Catholic church where they say the amount of gay priests in the UK alone is anything up to 40% of the total, while screaming anti gay rhetoric.

What eveil lies within the church.

And this coming on top of the paedophilia scandal surrounding the Pope's recent retirement from office.

The church is in major disaray and I shall look forward with interest to see who the new Pope will be...


MAKE AN EFFORT, MAKE A DIFFERENCE ... THANK-YOU.

Page 5 of 8