Be warned:
CURRENT NEWS & VIEWS HERE / HOME PAGE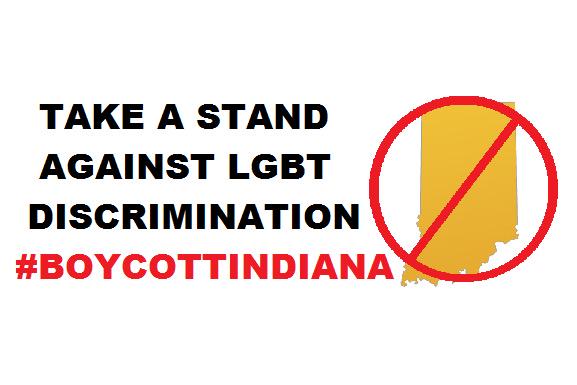 READ MORE HERE

BOYCOTT INDIANA





'If your house is on fire and the firemen are gay,

and it offends your religious belief,

are you going to send them away

and ask for another 'straight' fire fighting crew ?



Maybe those from the LGBT community are offering a more Christian attitude

than the Christians who are bigoted, rascist and damning of others.



The US state of Indiana has recently enacted a law which allows business to discriminate against those of the LGBT community.

This is all about religious beliefs and that if you find LGBT to be against your religious belief then you should not have to serve them if you feel offended by them, and this is discrimination - which is illegal. Claiming that business must serve anyone and everyone is correct if your business is offering a service or product that someone from the LGBT community might wish to purchase from you - - you have no right to dictate what someone else should do with their life just because it is against your religious beliefs, which should actually not come into it.


The guesthouse here in the UK who refused those 2 gay guys a few years ago certainly realized too late that it was not a good idea and ended up loosing their business and everything. It seems the people of England are a lot more understanding and sympathetic to those of us from the LGBT community than some church goers assume, and it seems they are using their belief structure to overcome laws and claim they only answer to God - which sounds really like the words of a paranoid schitzophrenic... hearing voices.

Vegetarians often shout at meat eaters and my answer to them is to go fuck off and leave me alone. I was a vegey once - chose to give it up, and will not be dictated to by others how I should live my life,. Be it eating meat, being gay or believing in God.

Nothing - NOTHING gives them the right and DO NOT tell me that someone's religious beliefs should allow this to happen because





Someone's religious beliefs just allowed some of their

followers to ransacked a museum at Mosul in Iraq

of its antiquities and destroyed them. This was done by members of ISIS

in the name of religion.

These Christians in Indiana are no different to those in ISIS.

They are religious terrorists damning and destroying a faction of their own community

because of a displaced religious viewpoint which is as dangerous

and as evil as any terrorist working for ISIS. They damn and destroy anyone

and anything that does not meet with their bigted and distorted view of Christianity

and we have seen this before in the UK with the jailing of Oscar Wilde

and the dreadful treatment of the world war hero Alan Turing

and the many who have been beaten to death

by scared men who have heard clap trap on ' what the Bible says'

when the truth is,- the Bible says no such thing.




If you have such strong opinions, then you should not be in business - as how many LGBT are fighting in Iraq and Afghanistan ? How many LGBT pay tax that pays for these Christians children to go school and pays for it - as well as paying for the army etc. How many LGBT are nurses - doctors - teachers - politicians - builders and anything and everything you may need, and

if your house is on fire and the firemen are gay, and it offends your religious belief,

are you going to send them away and ask for another ' straight' fire fighting crew ?

I think not - so this is obviously going to be as and when it suits the narrow minded, and if and when
their religious beliefs come before every day stuff like shopping, eating, doing laundry and just about anything where those from the LGBT community might be hiding in plain sight;- like serving YOU when they are offended by your ugly face - bad hair, dreadful clothes or attitude.

You see, we LGBT have to suffer the straights and their messed up attitude, noisy kids and all that goes with that - and there is little we can do except be open and accepting to all,

and maybe, just maybe,

the LGBT is offering a more Christian attitude than the Christians

who are bigoted, rascist and damning of others.



Says a great deal about what the Christian church of the USA is teaching.


BLAST FROM THE PAST

27/04/2015

Here is an e mail from a past client of mine when I was a sex worker. It came 'out of the blue' and not only was a ost pleasant surprise, but I really do have no idea who it is from, but it did ma
ke me giggle and I cannot wait to see him and find out who he is / was - from my past.
I was interviewed for a book on gay prostituition decades ago and out of the hundreds of people interviewed, years later I met the author who stated quite adamantly that of all the people he interviewed he KNEW I would make a success out of whatever I did in life and how I was the only one he would have remembered face to face - as I had made such an impact on him... He was never a client and we never had sex, we just sat and talked about the sex industry etc. and I remember having a great laugh with him... and this e mail below is of a similar ilk and a great compliment, but then, I was never a dummy even back in my 20's and 30's... and I was thrilled and went all giggly ( girly ) when I read it and was all blushy...


Hi John. Hi from a past client :) It must have been quite a few decades somewhat since we last met in an escort role. I have employed quite a few escorts and out of all of them, by far, you stand out (in more ways than one lol)

Happy birthday John for this month; 60 I believe? You now qualify for you old fogies bus pass lol

I'll have to pop in for coffee one Wednesday to say Hi & for our famous hug. I bet you don't remember me John. lol. I consider you as a major conquest & friend so when we meet maybe you will say "WFM it's you, you old bugger!!" lol tc John.

Stay happy John . Mike xxx


Be warned:


The e mail below is a common one for me and if you have ever received one similar, IGNORE IT - IT IS A CON and is being sent as a way to get your banking details and steal all your money.


Dear John:
I really hope you get this quickly. I could not inform anyone about our trip, because it was impromptu. we had to be in Ukraine for Tour.. The program was successful, but our journey has turned sour. we misplaced our wallet and Mobile on our way back to the hotel we lodge in after we went for sight seeing. The wallet contained all the valuables we had. Now our passport is in custody of the hotel management pending when we make payment.

I am sorry if i am inconveniencing you, but i have only very few people to run to now. i will be indeed very grateful if i can get a short term loan from you this will enable me sort our hotel bills and get my sorry self back home. I will really appreciate whatever you can afford in assisting me with. I promise to refund it in full as soon as soon as I return. let me know if you can be of any assistance. Please, let me know soonest.

Thanks.

Andrew Green



HAS ANYONE EVER HEARD OF

THIS ORGANISATION BEFORE ?

Thay wrote to me today looking for funding and I have to admit
to not knowing them at all. Having run variuous gay businesses for over 30 years it astounds me how easy it is for any business to promote itself to all gay venues through the internet - and yet most seem to miss that golden opportunity and so most venues will never know about so many things that are going on as we do not read all the gay publications but we do read our e mails.
Click on the Broken Rainbow UK picture to be taken to its own web site.



When injustice becomes law, defiance becomes duty.


HEAT YOUR HOME FOR PENNIES:


Thanks to Chris who told me this one - and it really works:

THIS REALLY WORKS

Get a metal pot stand. Put 3 or 4 Tea Lights - lit - in the middle together and have each one a couple of inches from the other

.

On the top on them lower a terracotta garden pot with its bottom upwards and where the candles heat burns up the inside of the pots and not straight out of the whole at the top.

The heat of the candles will heat up the pot so you cannot even touch it and the heat from just 3 or 4 small Tea Lights will warm the whole room.

Be careful with candles and never leave to burn without supervision or where children, the elderly or pets can knock them over;- and not in a draughty location.

If using Tea Lights NOT on some kind of metal or glass stand, then ALWAYS put them on a solid surface - NOT PLASTIC - as Tea Lights will melt down through the plastic and set fires. They become extremly hot - hotter than a lot of people realize.

Always put them in a safe countainer when alight and always take care with naked flames in the home.

I have been using one for the last couple of weeks and I have noticed I can turn down the heating in my own private lounge as it actually has been getting too hot and is a wonderful way of heating the place without paying a fortune to the gas and electric companies that are so screwing us all.


click above to read all about this dangerous legislation

Eighty-eight thousand deaths a year?
One in 10 people in America die from alcohol abuse each year.


AN EXCELLENT WEB SITE - CLICK THE SYMBOL ABOVE


US Secretary of State, John Kerry representing a country which makes Genghis Khan look like a wimp when it comes to illegal invasions, still retains the prize for jaw dropper of the decade:

"You just don't, in the 21st century, behave in 19th century fashion by invading another country on completely trumped up pretext", he pontificated on CBS' "Face the Nation."

It really is enough to take your breath away,- the gall of this idiot. Does he assume we are all idiots ?



The following BOURNEBATERS poll is now closed. Here are the
final results:

POLL QUESTION:

HAS AGE CHANGED YOUR SEXUAL REQUIREMENTS

CHOICES AND RESULTS
- YES, 19 votes, 41.30%
- NO, 14 votes, 30.43%
- DRAMATICALLY SO FOR THE BETTER, 11 votes, 23.91%
- DRAMATICALLY SO FOR THE WORSE, 1 votes, 2.17%
- INDIFFERENCE TO SEX, 1 votes, 2.17%

For more information about this group, please visit
http://groups.yahoo.com/group/BOURNEBATERS


'We have all been in abusive relationships, and sometimes we were the one being abused.'

Marianne Williams

BLOODY AWFUL.