SOCIAL COMMENTS
Skip TOC
Article Index
SOCIAL COMMENTS

current position


scroll down

An assortment of things that amuse, disgust, interest and thrill
Send your in and share with us all


"People who say homosexuals

are sick are sick themselves"
Enmity from the government and drug cartels have failed to deter Mexican Bishop Raúl Vera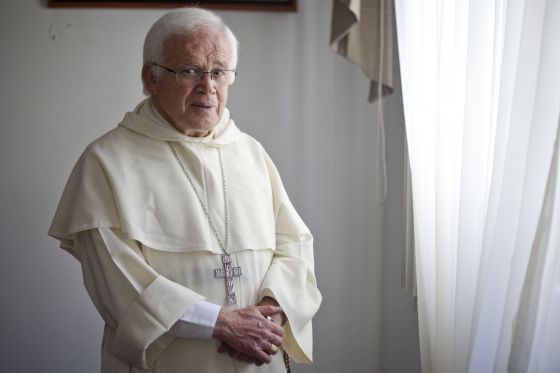 Raúl Vera, the bishop of Saltillo. / SAÚL RUIZ
Raúl Vera is the Mexican bishop who holds the record for death threats. He has survived more than one attempt on his life, and his work in favor of missing persons, immigrants, children and juveniles, indigenous populations, prostitutes and pariahs of all types has earned him the undying hatred of many, including the drug rings.
Yet the threats seem to leave no mark on him. An engineer by trade and an intellectual son of May 1968, the 69-year-old Dominican friar has forged himself a legend as an untamed soul.
His first test came in 1995 when Juan Pablo II sent him to Chiapas in the middle of the Zapatista effervescence. His mission: to bring order to the diocese of San Cristóbal de las Casas, which was then headed by the charismatic Samuel Ruiz, a champion of liberation theology and supporter of pro-indigenous theories. But the man who was supposed to wrest power away from the unruly Ruiz and return the diocese to the path of conservatism ended up supporting the local clergy instead.
Rome never forgot. As punishment, four years later Vera was transferred to Saltillo, in the arid northern state of Coahuila. It was to no avail. Vera returned to the trenches, facing up to the government and to the fearsome drug cartel of Los Zetas.
Meanwhile, his charged rhetoric against inequality and "liberal capitalism" has distanced him from the rest of Mexico's bishops, who are aristocratic and wed to orthodoxy.
The gap only widened when Vera began defending women who have abortions, and homosexuals.
For a long time, Raúl Vera was the Catholic Church's black sheep, the old-fashioned left-winger. But that was until the ideological earthquake represented by the new pope, Francis I, gave renewed relevance to his words. Now, other bishops are suddenly turning to Vera for guidance.
Question. What visits would you recommend to the Pope when he comes to Mexico?
Answer. To begin with, he should become familiar with the migrants' route. I would also make him visit a prison, because he likes going to prisons. I would also take him to the outskirts of a large city, because he says we should go to the periphery. I would organize a visit on the basis of what he is asking us to do. And I would make sure that the poor and the indigenous were standing in the front row, because that is something that doesn't usually get done.
Q. Not long ago you baptized the daughter of a lesbian couple. What do you think about homosexuality?
The true meaning of life lies in the community, in caring for the weak"
A.That is a topic that we have refused to address. The people who say homosexuals are sick are sick themselves. The Church needs to come to them not with condemnation, but with dialogue. We cannot cancel out a person's richness just because of his or her sexual preference. That is sick, that is heartless, that is lacking common sense.
Q. Is it not the same with abortion?
A. I share the Church's views on abortion, and see it as murder. The difference lies in how you penalize it. Abortion, just like same-sex marriage, has served us subterfuge to tell ourselves that we in the Church have our morals. It is very easy to go against a woman who has an abortion, it poses no trouble and we have support from the ultraconservative right. When there was a national campaign against abortion here, I organized rosary recitations to reflect on the defense of the lives of migrants, miners and women as well as the unborn. But we are hypocrites. It would seem that the only moral rules deal with condemning same-sex couples and abortions. You do that and you're the perfect Christian.
Q. Would you make prostitution legal?
A. No, that would be legalizing female exploitation. I believe in the dignity of women. Prostitutes are extremely damaged women, but they must never lose their dignity and their right to be respected. We are reaching horrible extremes in connection with trafficking and exploitation.
Q. You have confronted the drug cartels in public. Do you fear for your life?
I learned that in order to defend human life, you have to put your own life on the line"
A.In Chiapas I learned that you have to risk your life if you want to stand on the side of the poor. I learned that in order to defend human life, you have to put your own life on the line. There is no other way to be a shepherd.
Q. Mexico officially has more than 13,000 missing persons. In two northern villages, the drug rings took away 300 people in full daylight within the space of days, and authorities did nothing about it. What is happening?
A. Impunity is allowing this to happen. Disappearances come with the elimination of all evidence that might aid persecution of the crimes. First the people disappear, then their bodies.
Q. Would legalizing drugs be a solution?
A. That will not be a solution.
Q. Why not?
A. Absolutely not. Drugs go hand in hand with the depreciation of human life. The decomposition of man does not come from drugs; man turns to drugs, like he turns to alcohol, for other reasons. To some, life has no meaning and they need drugs to find that meaning. Others have no other place to go. Legalizing drugs will not solve the problem of why people use drugs in the first place.
Q. Are you a Socialist?
A. I do not consider myself a Socialist. I have not read Marx, I was not an activist, and I never liked the theory of conversion into a dictatorship. We all have the same rights and the same dignity, but we also have freedom. Yet I have never supported the methods of capitalism. The true meaning of life lies in the community, in caring for the weak and sharing equally in the bounty of the land. All of this I learned from the indigenous world, from the poor and the peasants. They taught me the value of human life and shared their capacity to feel joy. They taught me how to laugh.
http://sociedad.elpais.com/sociedad/2014/07/13/actualidad/1405281179_927346.html

WORLD MEGACITY POPULATIONS

AND ESTIMATES FOR 2025

2007

Tokyo, Japan (35.7)
New York -- Newark, USA (19.0)
Mexico City, Mexico (19.0)
Mumbai, India (19.0)
Sao Paulo, Brazil (18.8)
Delhi, India (15.9)
Shanghai, China (15.0)
Kolkata (Calcutta), India (14.8)
Dhaka, Bangladesh (13.5)
Buenos Aires, Argentina (12.8)
Los Angeles -- Long Beach -- Santa Ana, USA (12.5)
Karachi, Pakistan (12.1)
Al-Qahirah (Cairo), Egypt (11.9)
Rio de Janeiro, Brazil (11.7)
Osaka -- Kobe, Japan (11.3)
Beijing, China (11.1)
Manila, Philippines (11.1)
Moskva (Moscow), Russia (10.5)
Istanbul, Turkey (10.1)

2025

Tokyo, Japan (36.4)
Mumbai, India (26.4)
Delhi, India (22.5)
Dhaka, Bangladesh (22.0)
Sao Paulo, Brazil (21.4)
Mexico City, Mexico (21.0)
New York -- Newark, USA (20.6)
Kolkata (Calcutta), India (20.6)
Shanghai, China (19.4)
Karachi, Pakistan (19.1)
Kinshasa, Democratic Republic of the Congo (16.8)
Lagos, Nigeria (15.8)
Al-Qahirah (Cairo), Egypt (15.6)
Manila, Philippines (14.8)
Beijing, China (14.5)
Buenos Aires, Argentina (13.8)
Los Angeles -- Long Beach -- Santa Ana, USA (13.7)
Rio de Janeiro, Brazil (13.4)
Jakarta, Indonesia (12.4)
Istanbul, Turkey (12.1)
Guangzhou, Guangdong, China (11.8)
Osaka -- Kobe, Japan (11.4)
Moskva (Moscow), Russia (10.5)
Lahore, Pakistan (10.5)
Shenzhen, China (10.2)
Chennai, India (10.1)
Paris, France (10.0)


This list is fascionating as nowhere does it show London, which I always thought was a major city. Obviously not.
I am quite pleased London is actually smaller.



Fanny & Stella:


The Young Men Who Shocked Victorian England

by Neil McKenna
(Faber, £16.99)



Dressing up in drag in the 19th century could be hazardous. Male transvestite prostitutes often wore false breasts made from boiled sheep's lungs. One, who took out his breasts when he went to bed, was surprised to find the next morning that they'd been eaten by his cat.

However, far greater perils lay in store for "Stella Boulton" and "Fanny Park" when they were arrested outside the Strand Theatre in 1870. Stella had already gained some renown as a great beauty — indeed one man at the Strand mistook her for the Duchess of Manchester, recently described by the prime minister, William Gladstone, as "the very fairest of our land".
But at Bow Street police station, Stella admitted that her real name was in fact Ernest Boulton. As for Fanny, she was really Frederick Park. Stripped naked, they were examined by an exceedingly curious doctor who noted that both had unusually slack bottoms and inordinately long corkscrew-shaped penises — both these things, he concluded, being the result of "sodomitical activity".

They were then charged with "the abominable crime of buggery" — which until nine years earlier had carried the death penalty: the sentence had now been commuted to penal servitude for life. The case, predictably enough, caused a sensation — all the more so when details emerged of the two men's backgrounds. Fanny's father turned out to be a High Court judge, while Stella's was a stockbroker.

Both Fanny and Stella had dreamed — rather fancifully under the circumstances — of becoming actresses, but had ended up as male prostitutes. To make matters even more exciting, there was an exotic cast of supporting characters. One of Stella's more regular consorts was Lord Arthur Pelham-Clinton, son of the Duke of Newcastle and an MP.

The case also lifted the lid on something that had hitherto been kept tightly screwed down in Victorian London — the drag scene. Drag, it seems, was a lot more popular at the time than might be supposed. There were regular drag balls which the police, on the whole, turned a blind eye to — although in 1854 they did arrest a 60-year-old man "dressed in the pastoral garb of a shepherdess of the golden age".

Meanwhile, Stella and Fanny were languishing in Newgate Prison and being subjected to yet more medical examinations. One of these involved the two leading French specialists in sodomy, along with 17 English medical men "of the highest eminence". They peered through magnifying glasses at both men's bottoms and concluded — I suspect to the astonishment of Fanny and Stella themselves — that they could find no evidence of sodomitical activity.
By the time the case came to trial the public mood had changed — from shuddering fascination to something like sympathy. And when Stella and Fanny were found not guilty the public gallery erupted into cheers. Never one to be upstaged, Stella promptly fainted.

You would need to be a very dull — or prim — dog indeed not to find this a terrifically entertaining story. Neil McKenna has thrown himself into it with unfettered glee. If the opportunity arises to describe an anal fistula — and it does, frequently — he does not shirk it. Every so often the campness threatens to tilt out of control, but he's a sufficiently crisp, colourful and funny writer for it not to matter.

Perhaps the abiding impression the book leaves is just how thin the curtain was separating the demi-monde from solidly bourgeois society of Victorian England. In later life, one of Stella's ex-lovers renounced the "sodomitical underworld". Instead he decided to explore some other fleshy nooks and crannies — and became a chiropodist.




STOP THE WAR COALITION

Newsletter No.1236 29 February 2012

Email office@stopwar.org.uk

Tel: 07956 718 958

Web: - CLICK HERE
Twitter: http://twitter.com/STWuk
Facebook: CLICK HERE

Page 1 of 7